23rd J.I.C. Sinjoor International Youth Tournament
Datums/Laiks
Datums - 20/10/2018-28/10/2018
Visu dienu
Vieta
Bowling Stones
Adrese
Brussels, Steenweg op Brussel 397
20-28 October 2018 in Belgiium
23rd J.I.C. Sinjoor International Youth Tournament
Website: http://www.jicsinjoor.eu/
2nd Stop in the Youth Euro Trophy 2018-2019
Welcome to the 23rd International JIC Sinjoor Youth Bowling Tournament.
The tournament is hosted in Wommelgem (Antwerp) from Saturday October 20th till Sunday October 28th.
The tournament will take place in Bowling Center "Bowlingstones" in Wommelgem, where we have 20 lanes available.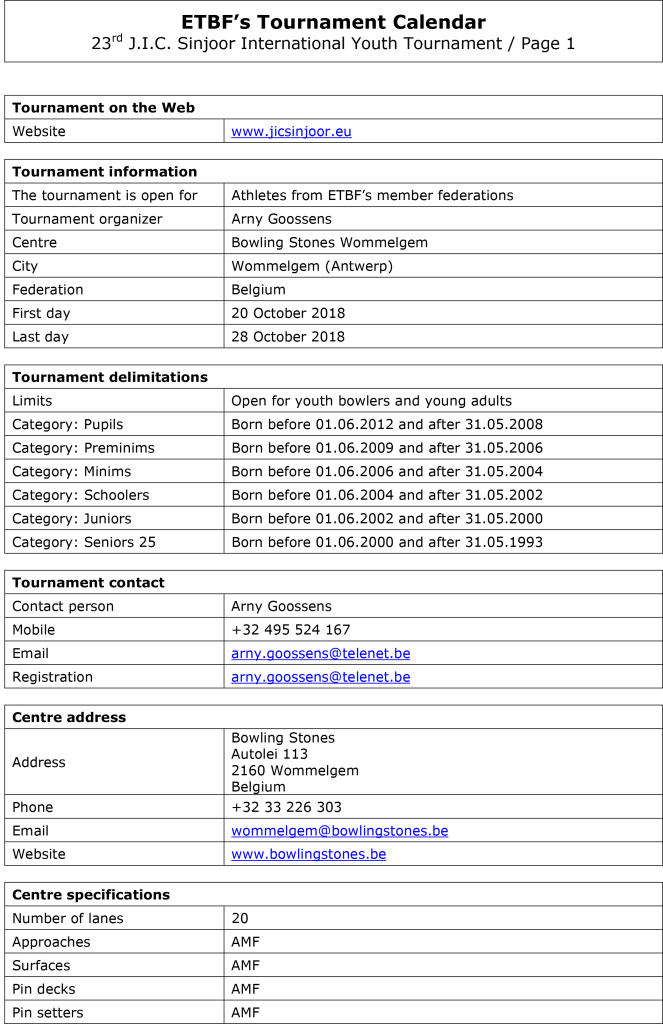 AVOTS: http://www.jicsinjoor.eu/, http://etbf.eu/
Līdzīgi notikumi:

Šajā kategorijā nav notikumu.
295 Kopā apskatīts
2 Apskatīts šodien
Komentāri
komentāri