European Women Championships 2018
Datums/Laiks
Datums - 06/06/2018-17/06/2018
Visu dienu
Vieta
Bowling Stones Bruxelles
Adrese
Brussels, Steenweg op Brussel 397, 1780 Wemmel
6-17 June 2018 in Brussels, Belgium
European Women Championships 2018
As a consequence of a construction change in Odense Bowling Centre the up-coming summer, after which the number of lanes in the centre will be reduced from 24 to 20, the ETBF Presidium has decided to move the European Women Championships 2018 from Odense in Denmark to Brussels in Belgium.
The championships, which will be hosted by the Belgian Tenpin Bowling Federation, will be held on its original scheduled period 6-17 June in Bowling Stones Wemmel (36 lanes), which also housed the European Men Championships in 2016.
The ETBF Presidium wants to express appreciation to the Belgian Tenpin Bowling Federation for their willingness to step in with a short notice.
Website – http://www.ewc2018.be/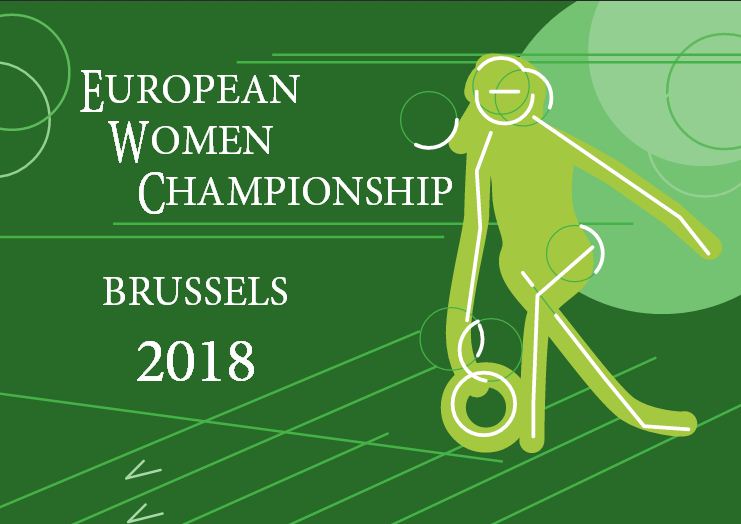 Weekday
Date
From
To
Activity
Tuesdag
05.06.2018
–
–
Ball registration
15.00
20.00
Unofficial practice
Weekday
Date
From
To
Activity
Wednesday
06.06.2018
–
–
Last day of team arrivals
–
–
Ball registration
10.00
20.00
Unofficial practice
Weekday
Date
From
To
Activity
Thursday
07.06.2018
09.00
18.00
Ball registration
08.00
09.00
Lane maintenance
09.00
10.00
Team Managers meeting in Bowling Stones
10.30
12.00
Official practice Squad 1
12.00
13.00
Lane maintenance
13.00
14.30
Official practice Squad 2
14.30
15.30
Lane maintenance
15.30
17.00
Official practice Squad 3
17.00
18.00
Break and line up
18.00
18.30
Opening Ceremony in Bowling Stones
Weekday
Date
From
To
Activity
Friday
08.06.2018
08.00
09.00
Lane maintenance
09.00
12.45
Singles Squad 1
12.45
13.45
Lane maintenance
13.45
17.30
Singles Squad 2
Weekday
Date
From
To
Activity
Saturday
09.06.2018
09.00
10.00
Lane maintenance
10.00
13.45
Singles Squad 3
13.45
15.00
Break and Lane maintenance
15.00
17.45
Singles Semi Finals
15.45
16.30
Singles Final
16.30
17.00
Medal Ceremony, Singles
Weekday
Date
From
To
Activity
Sunday
10.06.2018
08.00
09.00
Lane maintenance
09.00
12.45
Doubles Squad 1
12.45
13.45
Lane maintenance
13.45
17.30
Doubles Squad 2
Weekday
Date
From
To
Activity
Monday
11.06.2018
09.00
10.00
Lane maintenance
10.00
13.45
Doubles Squad 3
13.45
15.00
Break and Lane maintenance
15.00
15.45
Doubles Semi Finals
15.45
16.30
Doubles Finals
16.30
17.00
Medal Ceremony, Doubles
Weekday
Date
From
To
Activity
Tuesday
12.06.2018
09.00
10.00
Lane maintenance
10.00
12.45
Trios Squad 1
12.45
13.45
Special Olympics
14.00
15.00
Lane maintenance
15.00
17.45
Trios Squad 2
Weekday
Date
From
To
Activity
Wednesday
13.06.2018
08.00
09.00
Lane maintenance
09.00
11.45
Trios Squad 2
11.45
12.45
Lane maintenance
12.45
15.30
Trios Squad 1
15.30
16.30
Break and Lane maintenance
16.30
17.30
Trios Semi Finals
17.30
18.30
Trios Finals
18.30
19.00
Medal Ceremony, Trios
Weekday
Date
From
To
Activity
Thursday
14.06.2018
09.00
10.00
Lane maintenance
10.00
14.30
Team Squad A
Weekday
Date
From
To
Activity
Friday
15.06.2018
08.00
09.00
Lane maintenance
09.00
13.30
Team Squad B
13.30
14.30
Break and Lane maintenance
14.30
16.00
Team Semi Finals
16.00
17.30
Team Finals
17.30
18.30
Medal Ceremony Team & All Event
Weekday
Date
From
To
Activity
Saturday
16.06.2018
08.00
09.00
Lane maintenance
09.00
10.15
Masters Step 1 (8 matches)
10.15
11.30
Masters Step 2 (8 matches)
11.30
12.30
Break and Lane maintenance
12.30
13.45
Masters Step 3 (4 matches)
13.45
15.00
Masters Step 4 (2 matches)
15.00
16.15
Masters Finale
16.30
17.00
Medal Ceremony Masters
19.30
–
Farewell Banquet in Bowlingcenter
| Weekday | Date | From | To | Activity |
| --- | --- | --- | --- | --- |
| Sunday | 17.06.2018 | – | – | Departures |
Līdzīgi notikumi:

556 Kopā apskatīts
1 Apskatīts šodien
Komentāri
komentāri