Map Unavailable
Mediterranean Bowling Championships 2020
Datums/Laiks
Datums - 22/03/2020-29/03/2020
0.00
Vieta
Escape Factory
Adrese
Moussy-le-Neuf, Route de Vemars, 77230
22-29 March 2020 in Paris, France
Mediterranean Bowling Championships 2020

On behalf of the MBC Committee it is with great pleasure we announce our intention to invite the Bowling Federation of Kosovo and the Portuguese Bowling Association PSA to participate in the 2019 Mediterranean Bowling Championship. As you already know the championship will be held from 31st of March to 7th of April 2019 in St. Julian's, Malta.
After the feedback we received from our survey all our member federations (with exception of one federation that didn't reply back) agreed to open our doors and accept federations that are not bordering the Mediterranean Sea but are full member federations of the Mediterranean Games. These games are under the auspices of the International Committee of Mediterranean Games (CIJM) and are multi-sport games usually held every four years, between nations around, or very close to, the Mediterranean Sea ie. where Europe, Africa and Asia meet.
This is what we too believe and where we want our championship to be as well.
For the MBC Committee
Marios Nicolaides – Chairman
---
The idea of creating the Mediterranean Games came about in 1997 during the European Championship that was being held in Nottingham, England
Mediterranean countries share a lot of history, traditions and culture and a sport event is always an opportunity to enforce good relations. For this reason, Roni Ashkenazi from Israel, Roger Cristofidis from Cyprus, Niko Papadimitriou from Greece, and Julian Pace Bonello from Malta came up with the idea of uniting all Mediterranean federations in one Bowling event.
During the 2015 edition of the Mediterranean Challenge Cup in Greece, the decision was taken change the name to The Mediterranean Bowling Championships or MBC. This decision was taken with intention to formalize many aspects of the event. The members appointed in the Committee are Marios Nicolaides from Cyprus and Rick Vogelesang from Malta.
---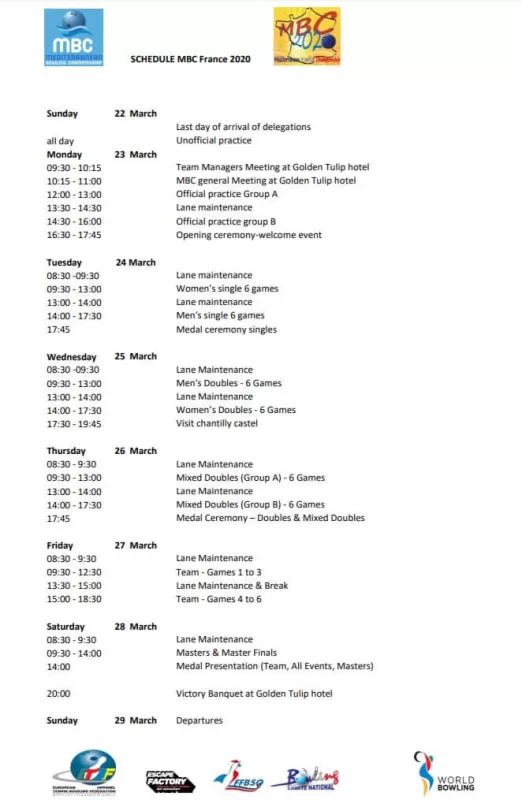 Līdzīgi notikumi:

242 Kopā apskatīts
1 Apskatīts šodien
Komentāri
komentāri