Nicole Sanders of The Netherlands became the second woman this season and the 22nd in the 18-year history of the Tour to win a European Bowling Tour title when she defeated Richard Teece of England in the title match of the inaugural Scheveningen Dutch Open Sunday at Bowling Scheveningen in The Hague, Netherlands.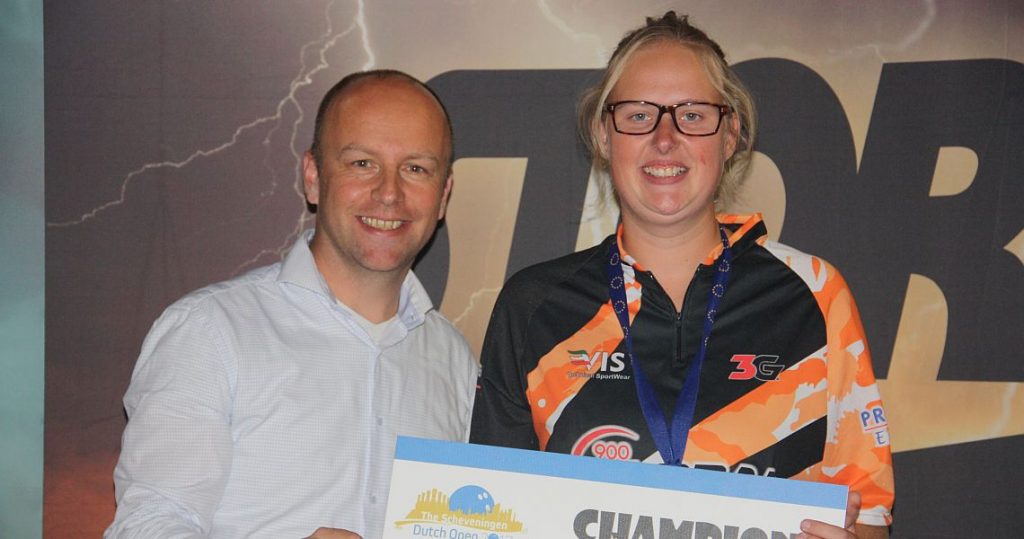 In the foregoing one game Semi Finals, Nicole Sanders had defeated Tim Stampe from Denmark, while Richard Teece had defeated Sidney Schroschk from Germany.
Nicole Sanders became the highest ranked woman in a tour stop for the 8th time, while Richard Teece became the highest ranked man for the 5th time.
Carsten W. Hansen from Denmark is leading the men's division of the tour with 586 points in front of Pontus Andersson from Sweden with 557 points and Dominic Barrett from England with 505 points.
In the women's division of the tour, Jenny Wegner from Sweden is leading with 587 points in front of Cajsa Wegner with 453 points and Daphne Tan from Singapore with 450 points.
It is therefore; even the last stop in Norway still is in front of us, possible to congratulate Jenny Wegner as the winner of the EBT 2017. Jenny won also the EBT 2015.
---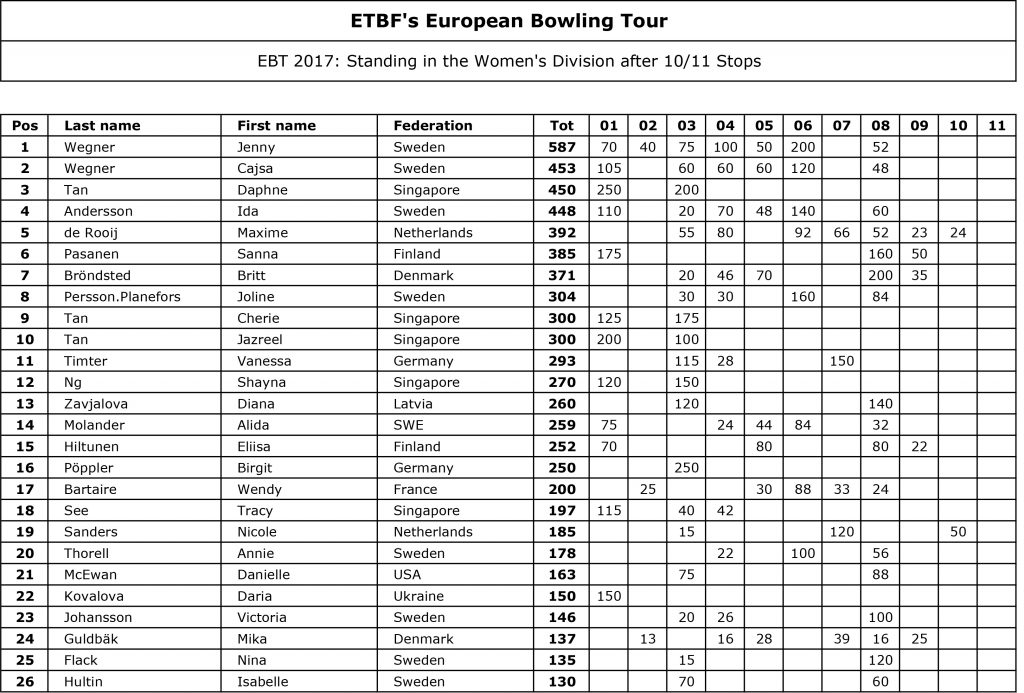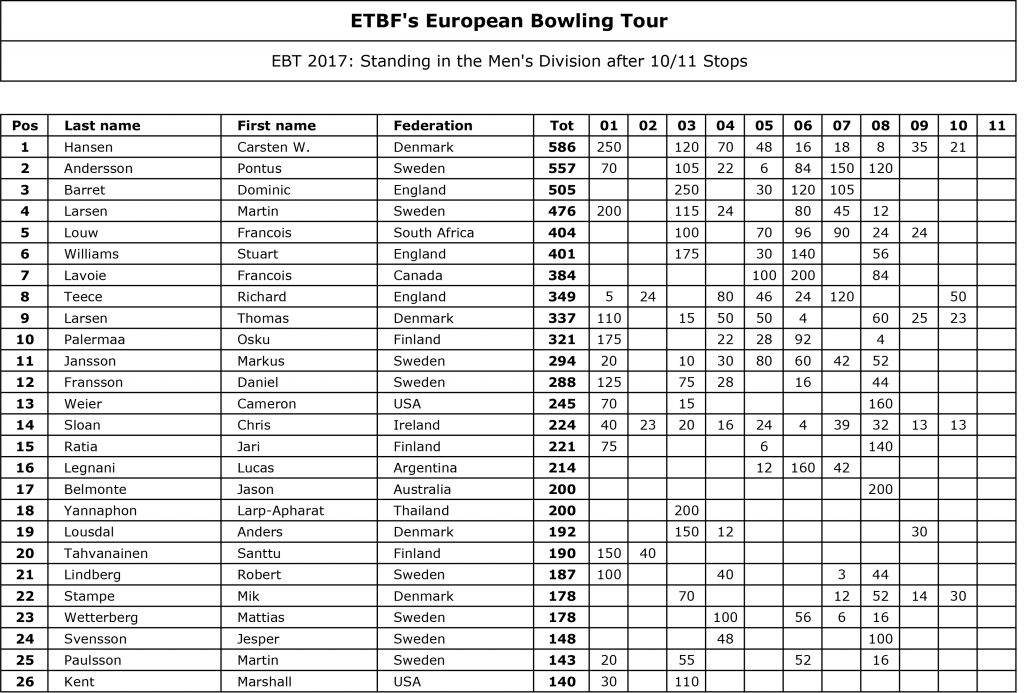 ---
Scheveningen Dutch Open
Bowling Scheveningen in The Hague, Netherlands (Sept. 9-17, 2017)
Championship Round:
1. Nicole Sanders, Netherlands, 4.000 Euro
2. Richard Teece, England, 2.500 Euro
3. Tim Stampe, Denmark, 1.000 Euro
4. Sidney Schroschk, Germany, 1.000 Euro
Playoff Results:
Semi-final Match 1: No. 5 Teece def. No. 30 Sidney Schroschk
Semi-final Match 1: No. 2 Sanders def. No. 14 Tim Stampe
Championship: Sanders def. Teece.
Scheveningen Dutch Open – Places 5-32 (Cashers)
5. Mik Stampe, Denmark, 500 Euro
6. Jesper Agerbo, Denmark, 500 Euro
7. Ghislaine Stigter-van der Tol, Netherlands, 500 Euro
8. Mike Bergmann, Netherlands, 500 Euro
9. Thomas Larsen, Denmark, 300 Euro
10. Bauke Jespers, Belgium, 300 Euro
11. Xander van Mazijk, Netherlands, 300 Euro
12. Carsten Warming Hansen, Denmark, 300 Euro
13. Mark Jacobs, Netherlands, 300 Euro
14. Sanne Hellemann, Belgium, 300 Euro
15. Clement Dubus, Belgium, 300 Euro
16. Jimmy Ravez, Belgium, 300 Euro
17. Yorick van Deutekom, Netherlands, 250 Euro
18. Jeffrey van de Wakker, Netherlands, 250 Euro
19. Chris Sloan, Ireland, 250 Euro
20. Mats Maggi, Belgium, 250 Euro
21. Johnny Spil, Netherlands, 250 Euro
22. Mariana Meteksinova, Bulgaria, 250 Euro
23. Mathias Ankerdal, Denmark, 250 Euro
24. Kevin Karlsson, Sweden, 250 Euro
25. Maxime de Rooij, Germany, 250 Euro
26. Rob Thurlby, England, 250 Euro
27. Nico Thienpondt, Netherlands, 250 Euro
28. Cindy Valckx, Belgium, 250 Euro
29. Eric Koning, Netherlands, 250 Euro
30. Vasilis Stefopoulos, Greece, 250 Euro
31. Egon Jannik Sørensen, Denmark, 250 Euro
32. Julien Sermand, France, 250 Euro
Avots: http://www.bowlingdigital.com/nicole-sanders-wins-her-first-ebt-title-in-dutch-open/, http://etbf.eu/
4547 Kopā apskatīts
3 Apskatīts šodien