In a rematch of the San Marino finals, Sin Li defeats Dominic Barrett to win the 7th Track Dream-Bowl Palace Open by Erdinger
2016 EBT #10 (Gold)
Track Dream-Bowl Palace Open by Erdinger
Dream-Bowl Palace in Munich, Germany (July 16-24, 2016)
Malaysia's Sin Li Jane improved on a second place finish last week to win her first European Bowling Tour title in the 7th Track Dream-Bowl Palace Open by Erdinger Sunday at Dream-Bowl Palace in Munich, Germany.
In a rematch of the title match at the 12th Storm San Marino Open, Sin Li (left) defeated Dominic Barrett (right) of England to become the first female champion this season and to earn the 5.000 Euro top prize.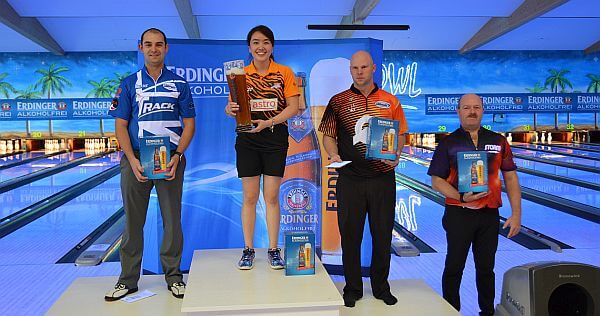 Championship Round:
1. Sin Li Jane, Malaysia, 5.000 Euro
2. Dominic Barrett, Enland, 3.500 Euro
3. Tommy Jones, United States, 2.500 Euro
4. Gery Verbruggen, Belgium, 2.000 Euro
L-R Dom Barrett, champion Sin Li Jane, Tommy Jones and Gery Verbruggen.
Playoff Results:
Eliminator Round 1: Sin Li (240/1206), Barrett (255/1153), Jones (214/1151), Verbruggen (188/1091); Verbruggen eliminated.
Eliminator Round 2: Sin Li (276/1482), Barrett (235/1388), Jones (228/1379); Jones eliminated.
Championship: Sin Li (231) def. Barrett (160), 1713-1548.
Sin Li's scores including eight pins handicap.
7th Dream-Bowl Palace Open – Places 5-64 (cashers)
5. Stuart Williams, England, 1.100 Euro
6. Bodo Konieczny, Germany, 1.100 Euro
7. Vanessa Timter, Germany, 1.100 Euro
8. Pascal Winternheimer, Germany, 1.100 Euro
9. Adam Purnell, England, 1.100 Euro
10. Jesper Agerbo, Denmark, 1.100 Euro
11. Francois Louw, South Africa, 1.000 Euro
12. Maxime de Rooij, Germany, 1.000 Euro
13. Joline Persson Planefors, Sweden, 1.000 Euro
14. Thomas Larsen, Denmark, 1.000 Euro
15. Mik Stampe, Denmark, 1.000 Euro
16. Ahmad Muaz, Malaysia, 1.000 Euro
17. Ida Andersson, Sweden, 750 Euro
18. Osku Palermaa, Finland, 750 Euro
19. Richard Teece, England, 750 Euro
20. Paul Moor, England, 750 Euro
21. Marco Baade, Germany, 750 Euro
22. Zulmazran Zulkifli, Malaysia, 750 Euro
23. Adrian Ang, Malaysia, 750 Euro
24. Syafiq Ridhwan, Malaysia, 750 Euro
25. Alex Liew, Malaysia, 750 Euro
26. Christopher Sloan, Ireland, 750 Euro
27. Martin Paulsson, Sweden, 750 Euro
28. Laura Beuthner, Germany, 750 Euro
29. Christian Bartl, Germany, 750 Euro
30. Magnus Johnsson, Sweden, 750 Euro
31. Sabrina Laub, Germany, 750 Euro
32. Andreas Gripp, Germany, 750 Euro
33. Thomas Gross, Austria, 750 Euro
34. Nikita Koshelev, Russia, 750 Euro
35. Lars Pöhler, Germany, 750 Euro
36. Tobias Börding, Germany, 750 Euro
37. Manuel Mrosek, Germany, 500 Euro
38. Pat Nolan, United States, 500 Euro
39. Lucas Legnani, Argentina, 500 Euro
40. Aidan Byrne, Ireland, 500 Euro
41. Tilo Matthies, Germany, 500 Euro
42. Robin Persson, Sweden, 500 Euro
43. Timo Schröder, Germany, 500 Euro
44. Peter Hellström, Sweden, 500 Euro
45. Timmy Tan, Malaysia, 500 Euro
46. Daniel Hellmich, Germany, 500 Euro
47. Janine Gabel, Germany, 500 Euro
48. Jimmy Mortensen, Denmark, 500 Euro
49. Markus Jansson, Sweden, 500 Euro
50. Frank Heine, Germany, 500 Euro
51. Ramon Hilferink, Netherlands, 500 Euro
52. Michael Loos, Austria, 500 Euro
53. Bart Van Beers, Netherlands, 500 Euro
54. Marco Rischer, Germany, 500 Euro
55. Ralf Gräwe, Germany, 500 Euro
56. Wim Claessens, Belgium, 500 Euro
57. Andreas Bösiger, Switzerland, 500 Euro
58. Carsten Warming Hansen, Denmark, 500 Euro
59. Sandro Brandt, Germany, 500 Euro
60. Bram Van Meerbergen, Belgium, 500 Euro
61. Dominik Hergenroeder, Germany, 500 Euro
62. Jaroslav Lorenc, Czech Republic, 500 Euro
63. Marco Pietschner, Germany, 500 Euro
64. Oliver Morig, Germany, 500 Euro
Avots: http://www.bowlingdigital.com/bowl/node/15646
2184 Kopā apskatīts
1 Apskatīts šodien